RemoteMeeting offers various features to conduct a more efficient online meetings.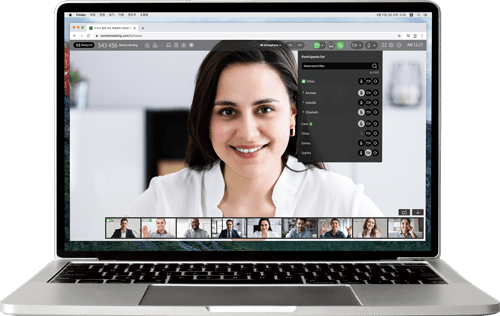 Minutes • AI Minutes
Create meeting minutes in real time and share them with all participants.
Access typing-style meeting minutes and STT (Speech To Text) AI meeting minutes.


Screen sharing
Share the participant's PC screen (desktop, program, browser, etc.) with other participants to improve communication.


Document sharing
MS Office (docx/pptx/xlsx), HWP, PDF, TXT, IMG(gif, png, tiff, jpg)
Documents in various formats can be shared without downloading them.


Screen recording
Record and save the meeting in real time to review the contents at any time.

Moderator mode
Pin the speaker to the main screen to grab the attention on the speech.
A person with moderator authority can control the voice (microphone) of all participants.

RemoteMeeting provides other convenient video conferencing features.


No installation No sign in Quick join Free invite/join