Hello, this is RemoteMeeting Team.
RemoteMeeting is working hard to bring you new features and better service by actively reflecting our customers' feedbacks.
RemoteMeeting will be performing a scheduled maintenance / update on the following date/time.
* Date: Thursday, November 4, 2021 19:00-00:00 (UTC+09:00)
* Target: Web · Mobile

When you need to participate in a video conference on the go, do you connect with your mobile phone?
We all had that moment when you had to unexpectedly have a video conference while on the go,
but it was difficult to show yourself because it was a public place such as a subway, street, or coffee shop.
Now, available on mobile, you can apply a virtual background just like on a PC to hide the your surroundings.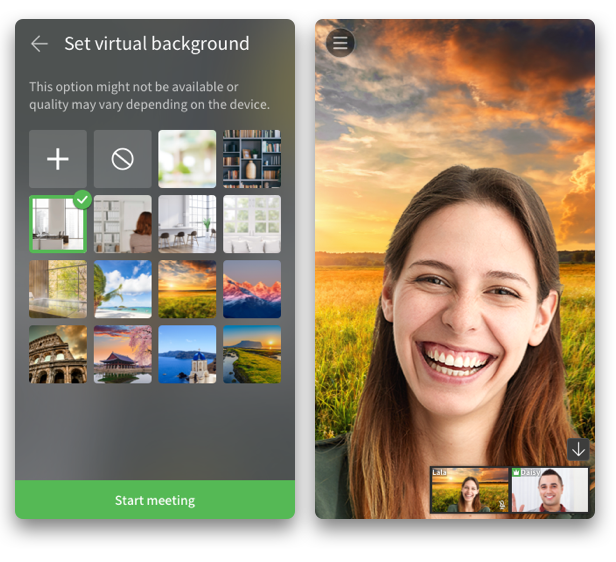 <How to Use>
1) Start a meeting from the RemoteMeeting app.
2) Go to Menu > Background
3) Select the desired background and press Apply.
In addition, UX has been improved for an easier and faster online meetings.
<Mobile background>
- Android 6.0 or higher (Android 8.0 or higher recommended)
- iOS 12 or later (recommended to use basic mode if gets too hot)
* Frame rates may be low on low-performance devices.

⇢ When starting a video conference in [Document Sharing Mode] on mobile,
the [Start Sharing] button has been added to start immediately.
⇢ When a video conference is started with [Document Sharing Mode] on your PC
without sharing a document,a participant joined from a mobile can share the document instead.


What if LG All-in-One Video Conferencing Display (LG ONE:Quick) is installed in the conference room?
Meet online at any time without any additional equipment such as laptops, cameras, or speakers,
just through OneQuick RemoteMeeting.
You can enjoy a more immersive non-face-to-face video conferencing on a wide and clear 4K screen.
We expect minimal downtime and advise that temporary outages of service are a possibility.
Try refreshing the page or reconnecting to www.remotemeeting.com to use the service.
Warm regards,
RemoteMeeting Team