Start a video conference right away without having to connect to RemoteMeeting. Increase business efficiency in a familiar work environment and system.
Many companies have already introduced and used various business solution for collaboration.
Even with newer tools, it is not easy to switch to it leaving the familiar current system.
While maintaining the current work environment and system, it is possible to easily connect with video conferencing services.
See how RemoteMeeting API offers it.
1. What is RemoteMeeting API service?
We provide RemoteMeeting API integration option as 100% web-based video conferencing solution. There is no need to install a separate program, no need to access remotemeeting.com,
We provide APIs that allow you to open and conduct video conferences in your existing business system without installing a separate program or accessing remotemeeting.com through partnerships.


2. Key features
Add online meeting capabilities to your current system by integrating with RemoteMeeting API.

- Customer authentication: Authentication step available so that only allowed users can use video conference API.
- Start a meeting: Initiate a meeting using the UI provided by the RemoteMeeting.
- Schedule a meeting: Reserve or delete the meeting time and details.
- Join a meeting: Conduct a meeting in the reserved online video conference room.
- Meeting history: Review the history of the meeting minutes and logs.
3. Benefits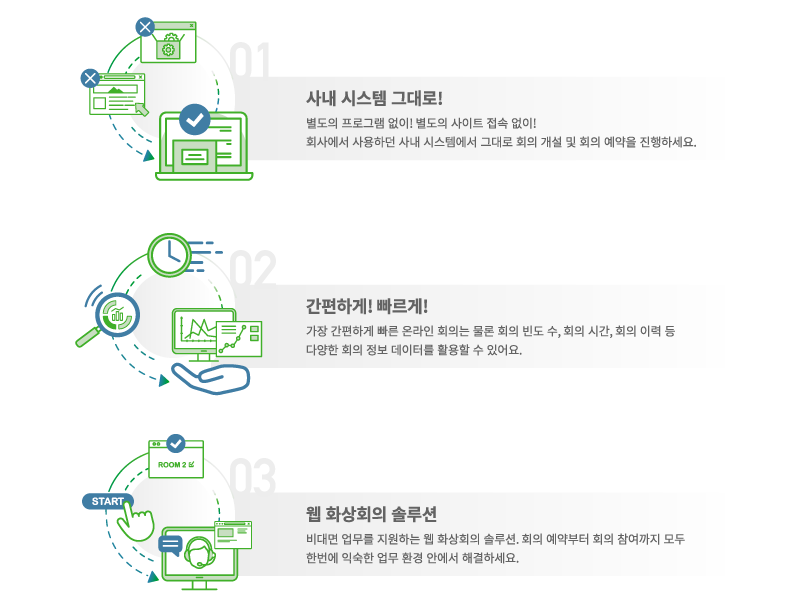 4. Use cases and examples

- Work from home linked with collaboration tools: Connect to the web from anywhere and work through video conferences.
- Online education service: Without going to school, communicate through video lessons between teachers and students.
- HR Service: Online video interviews can be conducted to reduce geographical and temporal costs.
- Online and offline video business consultation: Increase business efficiency in various fields such as foreign trade without restrictions on distance travel and time.
5. How to get the service

- Inquire about RemoteMeeting API > Submit RemoteMeeting API application > Authentication information for test API issued > Test integration with local system > Verification > Partnership and Integration
6. Specification
- Check the RemoteMeeting's Requirements and Specification.
* Contact Us