Start video conferencing right away without connecting to RemoteMeeting.
Increase business efficiency from the current work environment and system.
Many companies already have various business systems for collaboration in place. It is not easy to introduce new services with existing business systems. While maintaining the current work environment and business system, RemoteMeeting API is provided to allow easy connection with video conferencing services leaving the current system intact.
1. What is RemoteMeeting API service?
100% web-based video conferencing solution RemoteMeeting provides API required to integrate video conferencing. Provided APIs allows the user to start and conduct video conferences from existing business system without installing a separate program or accessing remotemeeting.com through affiliation between companies.

2. Key features
Just like holding a meeting room offline, do it all online! RemoteMeeting API integration is all you need!
Add video conferencing capability to your system.

- Customer authentication: only authorized users can access the affiliated video conference API.
- Start meeting: start a meeting using the UI provided.
- Reservation: reserve, edit or delete the meeting time and details.
- Join meeting: participate in the reserved online video conference room.
- Minute and history: review the history of meeting minutes.
3. Benefits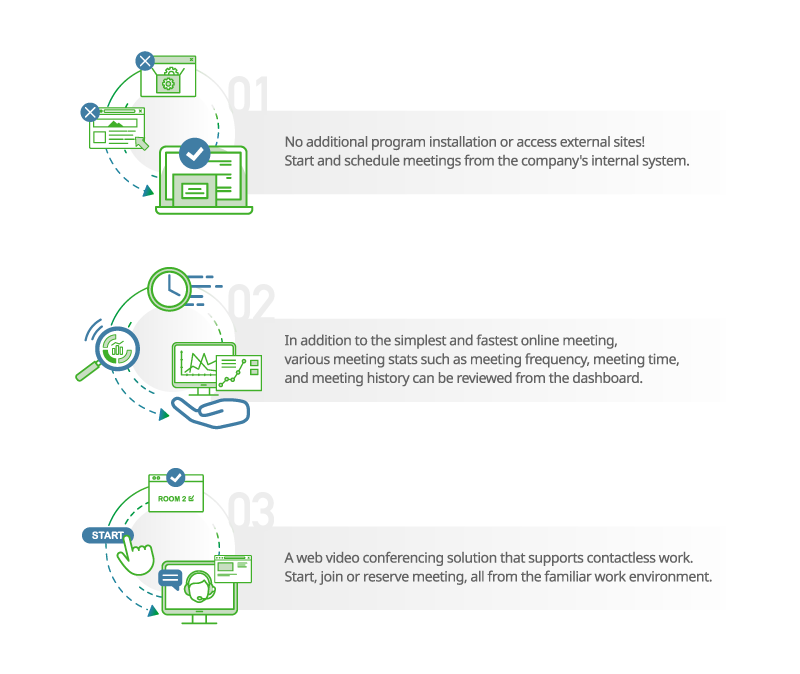 4. Use cases

- Telecommute with collaboration tools: connect to the web from where available and work through video conference.
- Online education: even if school is not accessible, communication between teachers and students is possible through video classes.
- Recruitment portal: online video interviews can be conducted to reduce geographical and temporal costs.
- Online and offline video business consultation: increase business efficiency in various fields such as foreign trade without restrictions on distance and time.
5. Affiliate process

6. Requirements / Specification
- Check here for the most optimized and recommended specifications supported by the RemoteMeeting API.