RemoteMeeting service is available on the devices (PC, smartphone) that has access to camera and microphone.
In a VMware or VDI environment, permission to access the camera/microphone might not be enabled or recognized
as virtual and cause the service to fail.
We recommend contacting the policy administrator or the VDI provider to find more about the peripherals availability.
Here is a quick guide on VDI from the manufacturer's website.
1. XenApp/XenDesktop version 7.16 or earlier
2. Verify peripheral access permission
On Citrix products, Access to VDI client's peripherals (USB, CD, Camera, Microphone) must be granted by
the user on the first log in.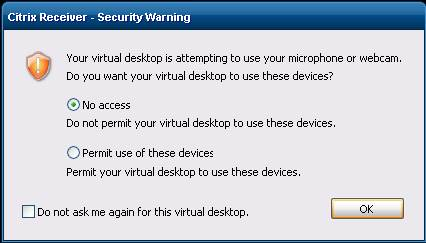 3. Critrix XenDesktop's WebCam User Guide